Comic-Con: The Cruise sets sail on Royal Caribbean's Serenade of the Seas, which offers the finest combination of luxury accommodation, excellent service & first-class venues for our performances, events and activities. This ship is a destination of its own with more than a dozen bars, restaurants, clubs, lounges, a Vegas-style casino, luxurious spa, and expansive pool deck to enjoy with your fellow Comic-Con® fans, the ship is a destination of its own.
Check out some of the many amenities and venues onboard the Serenade of the Seas.
Reflections Main Dining Room
Included
In the Main Dining Room, you can experience flavors that take you from Jamaica to Jaipur, a rotating menu of delicious dishes always offering something unexpected. A multi-level restaurant that in the morning is the perfect spot to enjoy a hearty brunch and mimosas. At dinnertime it transforms into a world class dining experience with a menu that invites you to taste your way around the world course by course.
Windjammer Café
Included
The Windjammer is your go-to restaurant for a rotating selection of global flavors. Just-pressed paninis packed with all your favorite meats and cheeses, flaky pastries fresh from the oven and omelets any way you like them plus hearty mains that run the gamut from crispy buttermilk fried chicken to Vietnamese braised Ho Chi Minh pork at this buffet-style dining paradise.
Park Café
Included
In the mood for deli classics that knock it out of the park? Head to Park Café, where you'll find quick bites to please every palate. Crisp made-to-order salads? Check. Fresh-pressed paninis and sandwiches? Double check. And don't miss the legendary Royal Kümmelweck roast beef sandwich – it's a guest favorite (and a rite of passage for cruising foodies).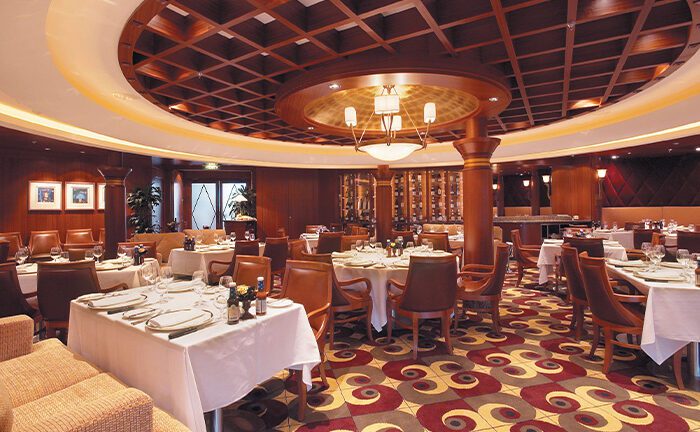 Chops Grille
Charge Applies
For more than a decade, the chefs of Chops Grille have proudly presented quality, hand cut steaks at this hallmark Royal Caribbean restaurant. Now, they give you a fresh twist on a favorite, with a revamped menu that brings contemporary flair to traditional steakhouse offerings. Most intriguing: our exceptional prime meat. This prime beef is joined by Maine lobster, grilled branzino and other succulent dishes paired with addictive sides and irresistible desserts.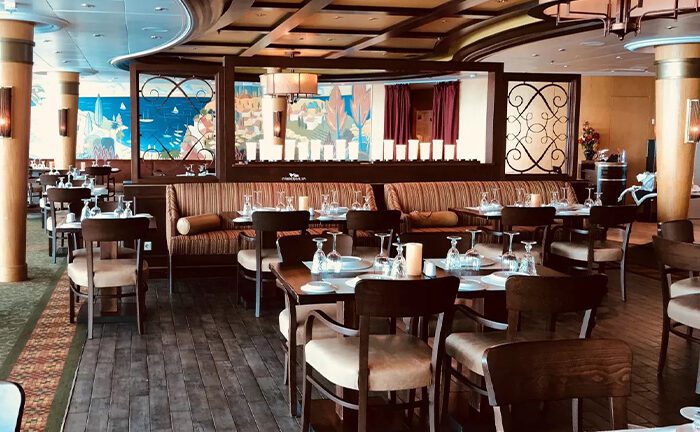 Giovanni's Table
Charge Applies
Every meal at Giovanni's Table is a family-style celebration of rustic Italian flavor. You'll find all your favorite Old-World classics on the menu here, like house focaccia served with marinated artichokes, olives and pesto, fluffy gnocchi tossed in a thyme-scented sauce of lamb and root vegetables, traditional risotto finished with porcini and truffle mushroom tapenade, and veal osso buco paired with creamy cheese polenta, ripe tomatoes and sautéed green beans.
Izumi
Charge Applies
From delicious sushi rolls to fresh sashimi and nigiri, Izumi serves up an exotic Asian-inspired dining experience. Savor izakaya-style appetizers and rolls that range from classic to imaginative. No matter what you order, you're in for a far out, Far East feast filled with incredible flavors from Tohoku to Tokyo.
Café Latte-tudes
Charge Applies
When you find yourself craving a steaming hot cuppa, Café Latte-tudes has just what you need. From a nice breakfast blend to get you going to an after-dinner cappuccino or macchiato, you'll find all your favorite sweets and specialty coffee beverages at this cozy cafe.
Schooner Bar
Where perfectly mixed cocktails, live entertainment, trivia sessions and more come together in a warm-lit nautical-themed lounge. Cozy up in a seat under the mast, by the portholes, or right by the gleaming grand piano. The sing-along's about to begin.
Solarium Bar
Relaxation can be thirsty work. While you're soaking up the vibe at the Solarium, grab a refreshment from the Solarium Bar, where friendly bartenders serve wine, beer, cocktails and chilled tropical drinks perfect for sipping while sitting poolside.
Vortex Nightclub
The Vortex Nightclub is the ultimate spot during the day to soak up panoramic views while you sip your favorite cocktails. Catch the sunset through its floor-to-ceiling windows. When day turns to night, this is the spot for late night dance parties and silent discos throughout the voyage.
Vintages
Whether it's malbec, merlot, riesling or pinot grigio, you're sure to find all your beloved reds or whites at Vintages wine bar. From France to California, the wide world of wine is well-represented through extensive partnerships with top winemakers, including some exclusive bottles you won't find anywhere else.
Crown and Castle Pub
If you're looking to grab a pint, this is the spot. Pop-up musical performances keep the vibe here lively and the pub's impressive drink menu offers a sweeping selection of beers that range from ales to lagers, cocktails and an inspired collection of spirits.
R Bar
R Bar, a retro style bar, serves up classic cocktails garnished with vintage vibes. Whether your drink of choice is a dry gin martini, an expertly mixed old fashioned, or the perfect gin and tonic, you'll find plenty to savor here.
Pool Bar
You don't have to stray too far from your comfy poolside lounger to enjoy a cool and creamy piña colada, a tropical Mai Tai, a glass of bubbly, or your favorite ice-cold brew – just pull up a chair at the Pool Bar, which offers views of the pool and the surrounding seascape.
Sky Bar
You don't have to stray too far from your comfy poolside lounger to enjoy a cool piña colada, a tropical Mai Tai, or your favorite ice-cold brew. Overlooking the action on the pool deck, Sky Bar provides a full menu of cocktails, beer and wine, as well as a bit of shade. The drinks flow, the view is spectacular, and the action is close.
Vitality Spa
Emerge renewed, relaxed and rejuvenated at the Vitality Spa. Professional spa products from acclaimed brands such as Elemis®, bliss®, La Thérapie and Ionithermie bring the most advanced services to the sea. Massages, wraps, facials and acupuncture, or choose medi-spa treatments to smooth wrinkles, lift and tone. A more brilliant smile is just a tooth whitening away, while a salon completes the perfect look with hair and nail services.
Vitality Fitness Center
Start a healthy new habit or keep your fitness routine on track. Vitality Fitness Center has an array of the most popular training classes including yoga, Pilates, spinning, sculpting and more. Trained instructors make it easy for everyone to have a great time and get fit. Fee applies for some classes.
Casino Royale
Bet on the big action at Casino Royale, a slice of Vegas right onboard the ship. Explore thousands of square feet of games, from penny slots to poker tables to roulette.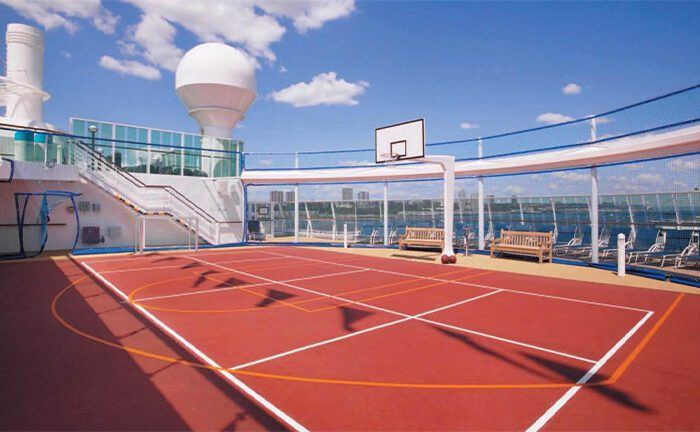 Sports Court
We'll bring the balls – you bring your A game. Whether it's a pick-up game or one-or-one, go all in for basketball and volleyball action at sea, but with an awesome energizing ocean view.
Pool
The pool deck is the place to be. Bask in the sun or relax in the shade while you sip a cool tropical cocktail from the Sky Bar that overlooks the pool, enjoy the loungers and live music.
Solarium Pool
Discover the Solarium, a relaxing indoor-outdoor retreat just for our adult guests. Perfectly positioned at the front of every Royal Caribbean ship, the crystal canopy area presents fantastic views and stays warm while you enjoy swimming pools, whirlpools and lounge area, as well as cascading lagoons on select ships.
Mini Golf
Up the ramp, around the curve and into the hole. Play on the green as you enjoy wide, blue ocean views. Mini golf is included in your fare, so play as much as you like. No reservation necessary.
Rock Climbing Wall
The view alone is worth every step. Climb forty feet above deck on the signature Rock Climbing Wall, where everyone from beginners to speed climbers can strap in and go vertical. With no reservation required at this complimentary activity, you could visit the view again and again.
Card Room
Vacations don't have to be all about the action. Take a breather in between deck-side delights at a cozy retreat where you'll find all kinds of relaxing ways to pass the time. Enjoy the ambiance while indulging in a game of Solitaire or challenge a friend to a round of blackjack or Scrabble. Well-stocked with plenty board games and spaces to play this is the perfect spot to recharge before your next big adventure.
Arcade
If you find yourself fleeing a gang of ghosts, saving deep space from invaders, or starting a dance revolution, you might be at the Royal Caribbean Arcade. Your favorite games from the 1980s and 1990s are onboard, as well as modern favorites.
Pool Table
A game of pool may seem challenging on a cruise ship, but not if you have a gyroscopic pool table. Bring your A-game and experience the first self- leveling pool tables at sea.
Table Tennis
Get ready for a table tennis tourney unlike any other. Come solo or pair up for a back-and-forth battle at sea.
Shopping
Shop the biggest designer names and onboard exclusives, all at prices you won't find on land. Swiss timepieces, liquor, fine jewelry, beauty and high fashion are all here, tax and duty free, plus special sale savings and our price match guarantee.
Main Theater
The Main Theater is an awesome venue to rock out and party while our Main Stage shows are where the celebrity talent bring us one-of-a-kind entertainment each night. The home of our biggest events, the Main Theater offers top-notch acoustics, clear sightlines, comfortable seats and, of course, bar service!
The Safari Club
Comfortable, spacious, and centrally located, The Safari Club is perfect for expert panels, live demos, intimate musical performances, and late-night parties!
Pool Deck Stage
The pool deck is the place to be! Not only can you bask in the sun or relax in the shade while you sip a cool tropical cocktail, but you can also enjoy daily parties, live music, nightly theme parties and crazy contests!
Movie Screen
The ship's large outdoor movie screen, located on deck 11 above the pool, airs movies under the stars.
Centrum
Full of shops and restaurants by day and parties at night, the Centrum is the heart of the ship and where there is always something to do. Daily events, live music, nightly theme parties and crazy contests are always going down at the Centrum.